Tesco's Clarke steps out from Leahy's shadow
May 10- Phil Clarke, new head of world No.3 retailer Tesco, stepped out of the shadow of his long-serving predecessor on Tuesday with a more ambitious group strategy that includes a plan to create new global brands.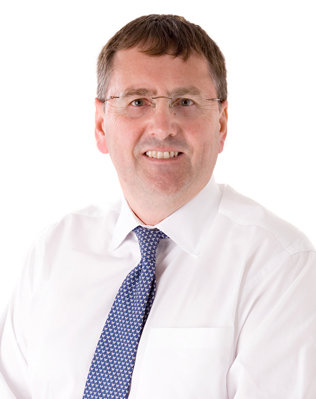 Philip Clarke
When Clarke, 51, was named chief executive last June, many commentators quickly concluded he was a carbon copy of his former boss, Terry Leahy.
That would be no bad thing as Leahy, who transformed Tesco from a British also-ran to an international powerhouse, is viewed as the most successful retailer of his generation.
Certainly, there are striking similarities.
Both men are from the northwest English city of Liverpool and both have been at Tesco all their working lives. They even live in the same village north of London -- on the same street.
Yet there are differences, and not just that Clarke picked the reds of Liverpool as his football team whereas Leahy follows the blues of Everton.
Leahy, who handed over to Clarke in March, was the master marketeer -- the man who launched Clubcard, the benchmark for success in store loyalty programmes.
Clarke, meanwhile, is more of a retailer, in his element striding around the shop floor whether in Birmingham, Bratislava or Beijing, enthusing staff with company strategy and occasionally advising them on how better to present their wares.
Born into a Tesco family -- his father was a store manager -- Clarke has the company coursing through his veins.
His first job, aged 14, was stacking shelves at a local Tesco store on Saturdays. After a degree in economics at Liverpool university, he joined as a graduate trainee in 1981.
At 23 he was managing a team of 300. By 1995 he was a regional managing director, by 1999 the head of supply chain and IT and by 2004, head of the group's international businesses, retaining his responsibilities for IT.
"Terry was no slouch. But Phil is something else. He is like a whirlwind," said one colleague who has worked with both men.
Launching an expanded group strategy on Tuesday, Clarke told Reuters he would spend the next 12 weeks presenting it to 5,000 managers in 21 meetings across three continents. [ID:nLDE748053]
As head of Asia and Europe, he spent 39 weeks on the road, and as chief executive he is planning to spend over a third of the year at the group's overseas businesses.
Like Leahy, Clarke is guarded, if not defensive, and prone to impatience with questioners who do not quickly grasp the point of what he is trying to say.
But he is also more likely to break into a broad smile, and clap you on the shoulder, and there is a real attempt to be more open and transparent.
While Leahy was criticised for giving little away, Clarke published reams of data at his first full-year results last month and conceded the group had made mistakes and needed to do better, particularly in Britain.
With Tesco's shares lagging smaller British rivals J Sainsbury and Wm Morrison as a multiple of forecast earnings, Clarke will need all his retail acumen and energy to return the group to its historic outperformance.
By Mark Potter
(Editing by Dan Lalor)
© Thomson Reuters 2018 All rights reserved.